WELCOME TO THE
VHS VOCAL MUSIC DEPARTMENT
Support VALENCIA CHOIR AND SHOP!
ONLINE AUCTION IS NOW LIVE: CLOSES AT THE END OF FRIDAY EVENING CONCERT DEC 2ND, CLICK HERE
TONIGHT - Dessert Carol Night -Carols, Desserts, and Silent Auction to support our students
December 1st and 2nd, 2022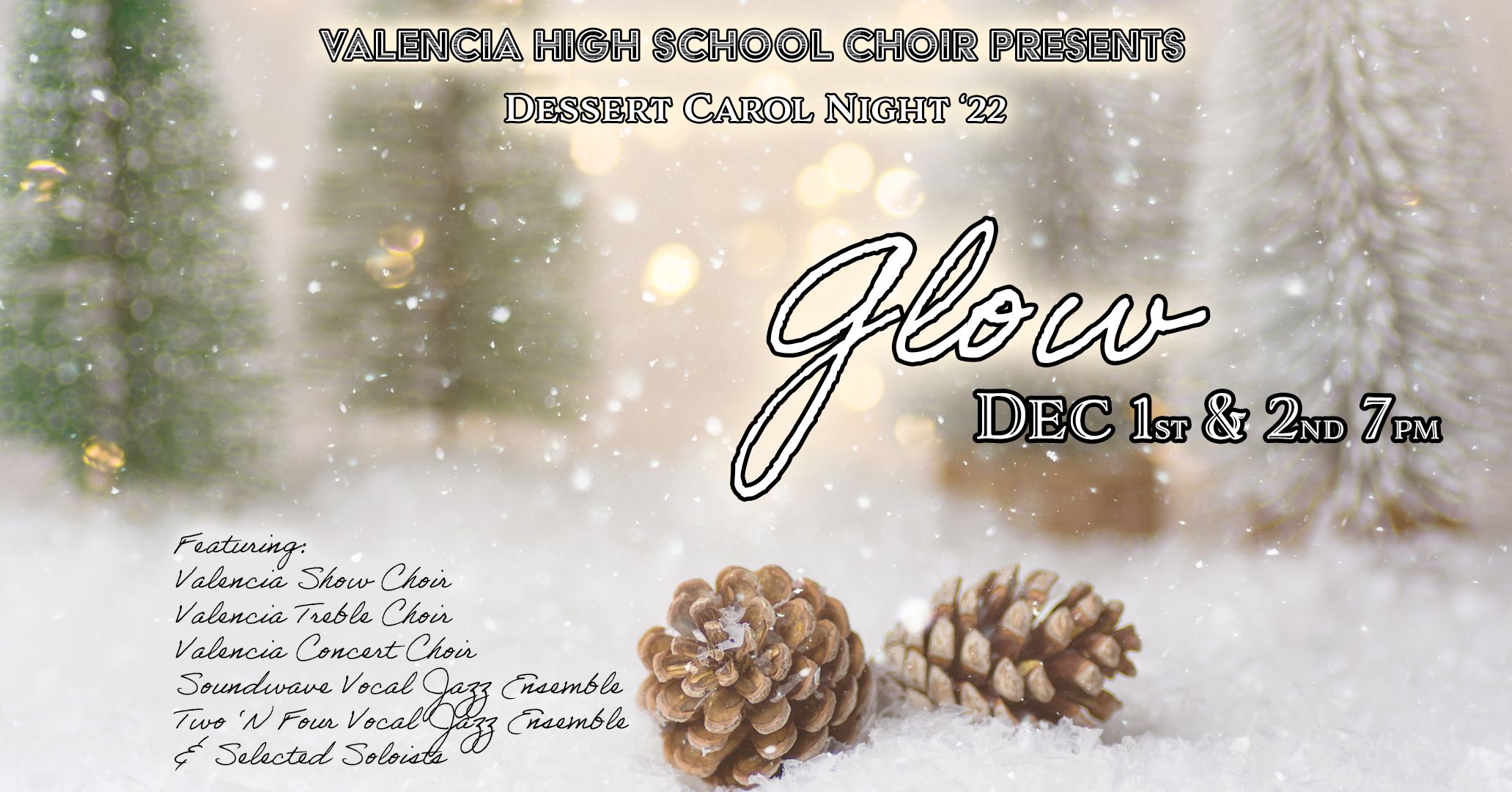 More Upcoming Dates:
Nov. 10th Treble Vocal Ensemble to University of Redlands
Nov. 13th Two N Four at Advent Caroling Performance - VUMC - 4:00pm-6:00pm 
Nov. 15th Mid-semester choir auditions 
Nov. 16th Dessert Carol Night - Solo Auditions
Nov. 30th Dress Rehearsal ALL CHOIRS
Dec. 1st and Dec. 2nd Dessert Carol Night Winter Concert - ALL CHOIRS
 Dec 3rd, Dec 4th - Two N' Four Vocal Jazz Ensemble performs at Disneyland in Candlelight
Dec. 7th Mid-semester choir auditions
Dec. 16th Staff Bfast - Concert Choir ONLY
2-22-23
Valencia Vocal Jazz Two N' Four will perform at the ACDA National Convention in Cincinnati, OhioTo help sponsor a student, email cmocha@hartdistrict.org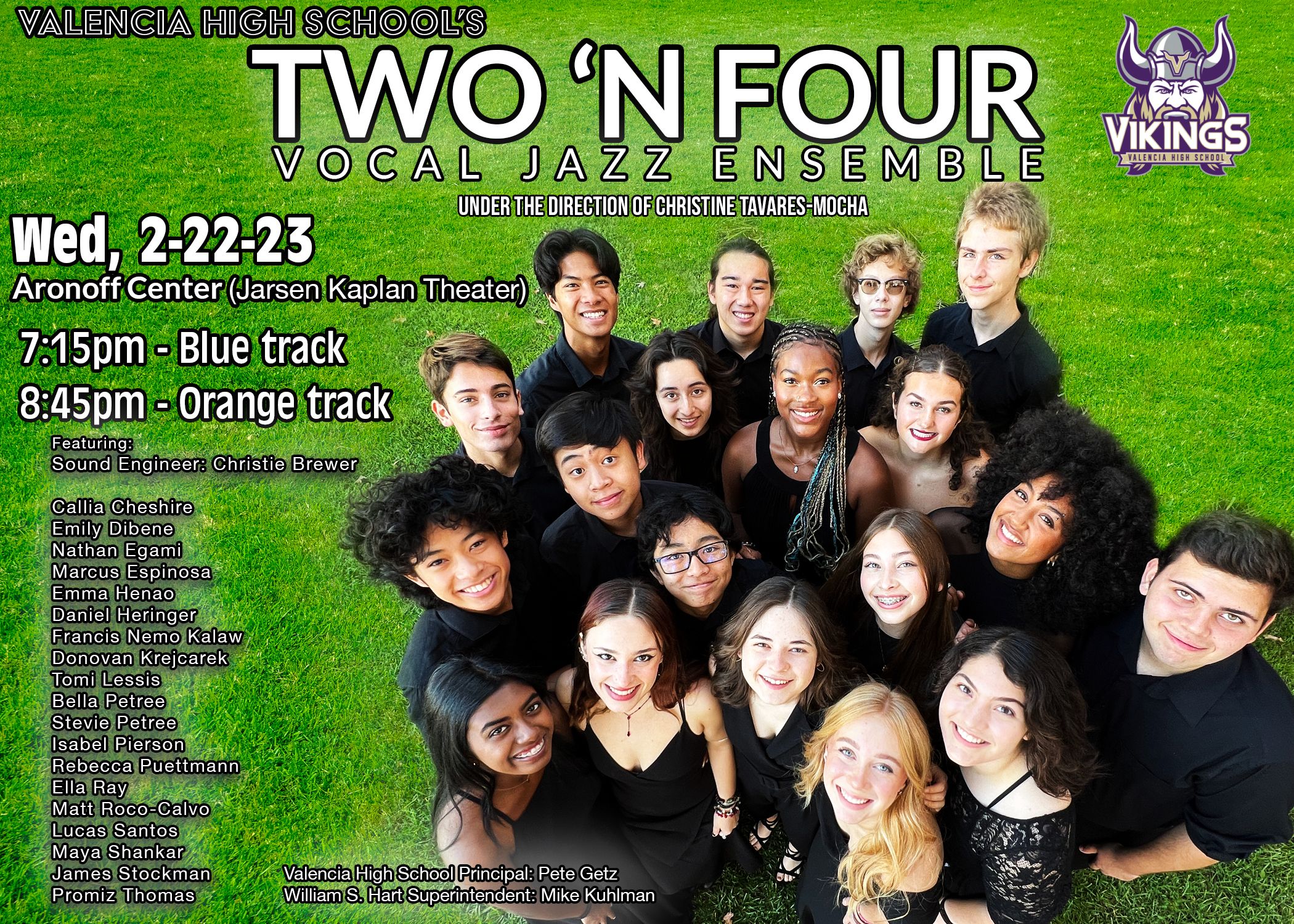 Past Dates:
Nov. 1st Solo Showcase - thank you for coming!
 Nov. 3-4th Jazz to San Luis Obispo, Cuesta Vocal Jazz Festival
 
Solo Showcase, Tuesday Nov. 1st 6-8:30pm
- Soloists sing at Downtown Newhall 
Copy link to see the order of soloists and their times:
https://docs.google.com/spreadsheets/d/1QLXwkA-Ip9_OSjSg6ckRxLl2GT3Lo2F3AeFVUS9bT90/edit#gid=0
Time listed is the time students should arrive. (Students will stay for their 30 minute time slot to sing and watch the 5 people in their group). 
All tickets are good for the duration of the evening for ticket holders, feel free to shop or dine down the street at Downtown Newhall before or after your student's performance
To view tickets already purchased, they are located here, copy and paste link
https:/docs.google.com/spreadsheets/d/1U7Hfe7jELw7wAYpn9F9Ibsr3Jg5px9cvRLmWVWgekeU/edit?usp=sharing 
-----------------------------------------------------------------------------------------------------------------------
Vocal Jazz Results Listed Below!
Audition Results posted here: Thank you to all who auditioned in a very competitive year.
Please email me if you would like feedback. Even if you are not in the jazz ensemble, you are still eligible for solo opportunities, honor ensembles. solo competitions. Please let me know how I can help / support you in your musical pursuits next year. 
Congratulations Vocal Jazz Students! 2022-2023 VHS VOCAL JAZZ
 Two N' Four Vocal Jazz Ensemble
Jazz Period 0 
Daniel Heringer 
Matt Roco Calvo 
Nathan Egami 
Tomi Lessis 
Marcus Espinosa 
Francis Kalaw 
Lucas Santos 
Donovan Krejcarek 
James Stockman 
Ella Ray 
Bella Petree 
Stevie Petree 
Emily Dibene 
Maya Shankar 
Becca Puettmann 
Isabel Pierson 
Emma Henao 
Callia Cheshire 
Promiz Thomas
Soundwaves Vocal Jazz Ensemble
Jazz Period 1
Sophia Costello 
Keila Viray 
Maddie Medland 
Madison Handley 
Lauren Hurley 
Christie Brewer 
Kayla Martinez 
Ella Freed 
Uche Nwadiashi 
Micah Banaag 
Jacob Kim 
Chris Rice 
Joel Priesz 
Jonathan McPhee 
Mikko Lessis 
Henry Egami 
Maddox Espinosa 
Daniel Shlager 
CONGRATULATIONS TO TWO N' FOUR VOCAL JAZZ ENSEMBLE!! 
THEY HAVE BEEN NAMED THE #1 HIGH SCHOOL LARGE VOCAL JAZZ ENSEMBLE
IN THE NATION AND SPECIAL SHOUT OUT TO MIA GUTIERREZ FOR RECEIVING AN OUTSTANDING SOLOIST AWARD FOR MOLASSES.
All Students have a place in Valencia Choir
We turn no one away based on financial need or musical ability.
Our goal throughout our school, community and the world is to:
Inspire, Uplift, and Cultivate Community
Come join Valencia Vikings Choir!!!!
Go Vikings!
Next week is our Spring '22 Choir Farewell Concert on Thursday, May 12th and Friday, May 13th at 7pm.  We need lots of volunteer help and donations.  Please consider signing up to volunteer on one night.  You'll get a free ticket to the other night's show!  We so appreciate your continued time and support.  Please let us know if you have any questions at valenciavikingschoir@gmail.com.  Thank you so much!!
CONGRATULATIONS VHS CHOIR