Win a European Getaway for 2
Thank you for participating! This raffle is over, and the winner has been announced.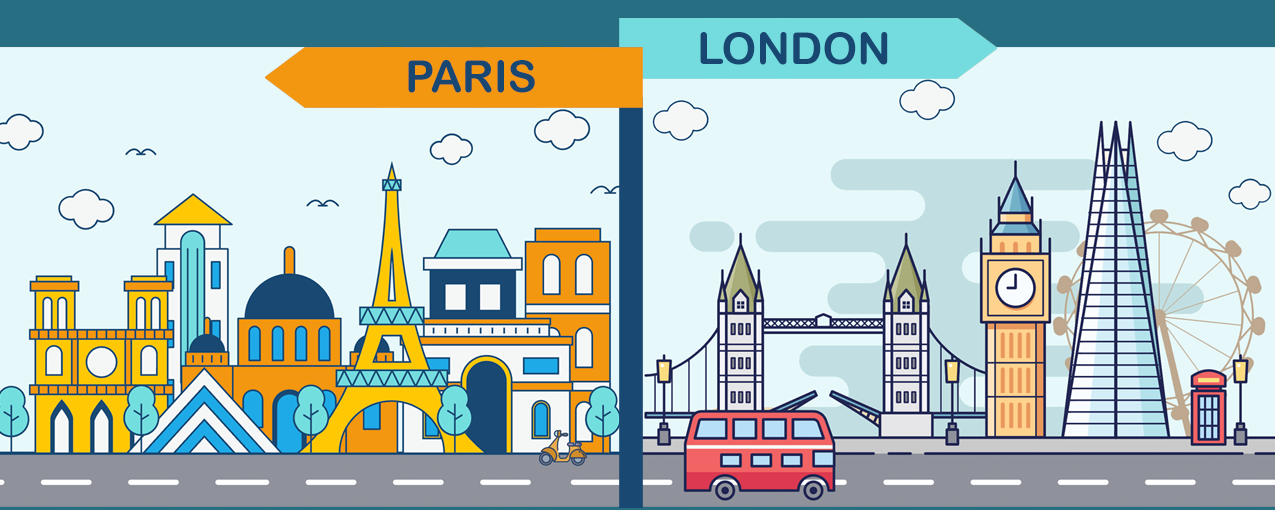 Support our Choir while getting a chance to win a trip to either Paris or London (your choice!) over Veterans Day Weekend. Enjoy a European getaway while helping our students achieve their musical goals.
Included*:
Round-trip airfare for 2 from select US gateways
3 nights accommodations in centrally located hotels
All air taxes, fuel surcharges, and hotel taxes
Continental breakfasts daily
Basic Protection Plan
*Sponsored by: Encore Tours
Checks Made Payable
to VHS Choir
"Win a European Getaway for 2" Raffle - OFFICIAL RULES
RAFFLE DESCRIPTION
Valencia High School Choir ("VHSC") is conducting the "Win a European Getaway for 2" Raffle (the "Raffle") to raise funds for its ongoing choir activities and purposes. The sponsor of this Raffle is Encore Tours (the "Sponsor"). By participating in the Raffle, each Entrant unconditionally accepts and agrees to comply with and abide by these Official Rules, as interpreted and applied by VHSC, and the decisions of the Sponsor, which shall be final and binding in all respects. The Sponsor is responsible for the booking of travel and all activities related to travel. Entrants should look solely to the Sponsor with any questions, comments or problems related to the prize.
The Grand Prize Drawing for the Raffle will take place on January 27, 2023 at the Pop N' Rocks Concert. The final ticket purchase deadline for entry is January 27, 2023, at the end of the concert intermission.
ELIGIBILITY
To be eligible to purchase a ticket, a Ticket Purchaser must be at least 18 years old at the time of purchase and be a U.S. resident. This Raffle is subject to all applicable federal, state and local laws and regulations and is void where prohibited or restricted by law.
VHSC reserves the right to require reasonable evidence of the eligibility of a Ticket Purchaser at any time and to void any ticket sold to a person who does not meet the eligibility requirements or who is precluded by applicable law from holding a ticket or participating in a raffle.
Raffle Ticket Information
Raffle Tickets are $15 each.
Only one Eligible Ticket Purchaser (as defined above in the "Eligibility" section of these Rules) may purchase a ticket. This means, (a) one name per ticket and (b) one purchaser per ticket.
How to Enter
Eligible Ticket Purchasers may purchase Raffle tickets by one of the following ways:
Reserve a ticket by emailing Mrs. Mocha at cmocha@hartdistrict.org and provide payment in person or through a choir student
Buy a ticket on the days of the Pop N' Rocks Concert on January 26, 2023 and January 27, 2023
At the time of purchase, Eligible Ticket Purchasers must provide their name, address, and phone number. All entries must include payment by cash or check made payable to VHS Choir.
Tickets will be distributed and ticket numbers will be assigned in the order that payment is received. All payments will be deposited upon receipt. VHSC reserves the right to reject any entry form that it deems defective, illegible, ineligible, or submitted without "good funds."
VHSC will give the ticket stubs as receipts for ticket purchases to the Ticket Purchaser within two to four days of purchase. If a purchaser does not receive his/her ticket stub as noted above, please contact cmocha@hartdistrict.org. A spreadsheet tracking all ticket purchases will be available to all Ticket Purchasers. To win a prize, Ticket Holders do not need (a) to possess a hard copy of a Raffle ticket or a receipt in order to win and (b) do not need to be present at the drawing.
All Raffle ticket sales are final. VHSC will make no refunds except under the following circumstances: VHSC will return any payment that VHSC receives after the final ticket purchase deadline. No other refunds are available except at the discretion of VHSC.
Odds of Winning
The odds of winning will depend on the number of tickets sold. 1,000 tickets have been printed. If VHSC sells 1,000 tickets, the odds of winning the prize are 1 in 1,000. If VHSC sells less than 1,000 tickets the chance of winning will increase.
Drawing
Purchase Deadline: Friday, January 27, 2023 at the end of the concert intermission
Drawing Date & Time: Friday, January 27, 2023 at the end of the Pop N' Rocks Concert
Drawing Location: Valencia High School Theater, 27801 Dickason Dr., Valencia, CA
At the drawing, VHSC will draw at random and determine the winning ticket.
At the discretion of VHSC, VHSC may extend or modify ticket purchase deadlines and drawing date, time, and location. Any changes to the drawing will be announced on www.valenciachoirs.com and purchasers will be notified by email or phone. A list of Raffle winners will be posted on the Raffle page of the Valencia Choir website (www.valenciachoirs.com).
Prize Details
Only one prize per person and per household will be awarded. Prizes cannot be transferred, redeemed for cash or substituted by the winner. The Sponsor reserves the right in its sole and absolute discretion to award a substitute prize of equal or greater value if a prize described in these Official Rules is unavailable or cannot be awarded, in whole or in part, for any reason.
Prize: Winner will have the option to travel to either Paris or London over Veterans Day Weekend. Alternatively, winner may travel over Martin Luther King Weekend if Veterans Day Weekend dates do not suit winner's schedule. Travel includes:
Round-trip airfare for 2 from select US gateways
3 nights accommodations in 3 and 4-star centrally located hotels in double/ twin room
All air taxes, fuel surcharges, and hotel taxes
Continental breakfasts daily
Basic Protection Plan
Travel Itinerary
Day 1 Wednesday, November 8, 2023
Depart from the U.S. on an overnight flight to Paris or London. Please note that the transfer from the airport to the hotel is not included.

Day 2: Thursday, November 9, 2023
Arrive in Paris or London this morning. Check-in to centrally-located hotel, and begin exploring right away.

Day 3 and Day 4: Friday, November 10 and Saturday, November 11, 2023
Enjoy free time to explore the treasures of the city. Explore the museums, peruse through the markets and take in the sights.

Day 5: Sunday, November 12, 2023
Depart for the United States. Please note that the transfer from hotel to the airport is not included.
Gateway
The following list of gateway cities can be booked for no fees. If your preferred gateway is not provided, please note it on the registration form. Encore Tours will contact you with any additional cost. Encore cannot guarantee requests for specific airports where options exist, such as NYC's JFK, LaGuardia and Newark Airports.
Atlanta
Boston
Chicago
Cincinnati
Cleveland
Dallas
Denver
Detroit
Houston
Kansas City
Los Angeles
Miami
Minneapolis
New York
Orlando
Philadelphia
Phoenix
Pittsburgh
Portland, OR
Raleigh
Salt Lake City
San Francisco
Seattle
St. Louis
Tampa
Washington DC
Terms and Conditions

Deadlines
Registration forms must be postmarked by June 30, 2023 We regret that no changes may be made after this date.
Flight Reservations
All tickets are issued by the airlines, are subject to availability and are issued on a space-available basis. Encore is not able to confirm flights until approximately two weeks prior to departure. Once tickets are issued, airlines will not confirm reservations or seats over the phone. Please note: seat selection must be done at the airport on the day of departure. Evening departures and routing (including non-stops) cannot be guaranteed. Frequent flyer miles are generally not issued with these promotional tickets. Please be prepared to depart at any time of day on either end of the trip. To avoid luggage hassle we recommend bringing only carry-on luggage. Any fees for your checked bags will be your responsibility.
Rooming
This includes double/twin rooming. Guaranteed single accommodations are available on most trips for an additional $80.00 per night. The $80.00 per night single accommodation fee is non-refundable. You must check off this option on your registration form. Any rooming changes made while away are the responsibility of the parties involved.
Extra Days
You may request to extend your stay for a $50.00 alternate flight charge per person by indicating this on the registration form. Extra days may not be purchased within 60 days of departure. Accommodations may be made under your own arrangements or you may remain at the Encore hotel at a rate of $130.00 per person per night for twin /double accommodations including continental breakfast, or $210 per night for single accommodations including continental breakfast. Triple rooms may be requested but cannot be guarantee.
Substitutions and Name Changes
Substitutions are not permitted within 60 days of departure. Encore will assess a $200 fee to all registered passengers who request a passport name change within 60 days of departure.
Travel Protection
Encore Tours will provide you and your companion with the Basic Protection Plan with coverage of up to $15,000.00.
Additional Information
The tirp begins with the takeoff of your outbound flight and ends upon completion of your return flight to your final destination. Encore, its affiliates, parent company AIFS, Inc., directors, officers, or employees cannot be responsible for any injury, loss, damage, accident, delay, or expense resulting from events beyond its control, including without limitation, acts of God, war, terrorism, strikes, incidents of politically motivated violence, sickness or quarantine, government restrictions or regulations, and, in the absence of it own gross negligence, arising from the use of any vehicle or from Encore's selection of, or from any act or omission by, bus or car rental agency, steamship, airline, railroad, taxi or tour service, hotel, restaurant, agency, company or individual. If there are weather delays or cancellations, we will work with the airlines to rebook, but unfortunately we cannot guarantee rescheduling your trip.
Cancellations
Cancellations must be made in writing. Once paid, single room supplements and extra days are non-refundable. As soon as you know you are canceling, please call Encore and send cancellation in writing by email, fax or mail.
Payment Deadlines
Any balances still unpaid one month prior to departure will result in the cancellation of the passenger. Encore will not reschedule the trip for any participants cancelled for non-payment.
Passports and Visas
Passports are required for all US citizens travelling internationally. Participants are responsible for obtaining all necessary travel documents for their trip, including but not limited to any visa required for entry into their travel destination or connection city.
Winner must fill out a registration form for winner and companion and return it to Encore Tours no later than June 30, 2023 with winner's destination choice. Please note that if Sponsor does not receive the registration form by this date, winner will forfeit this trip. The form can be faxed to 617-450-5601, emailed to encoretours@acis.com, or mailed to:
Encore Tours
330 Congress St.
Suite 5
Boston, MA 02210

WINNER NOTIFICATION
Winner will be notified by the phone number or email at the email address provided in the Entry Information approximately two to four days after the random drawing. VHSC is not responsible for any delay or failure to receive notification for any reason, including inactive email account(s), technical difficulties associated therewith, or Winner's failure to adequately monitor any email account.
Any winner notification not responded to or returned as undeliverable may result in prize forfeiture. The potential prize winner may be required to sign and return an affidavit of eligibility and release of liability. No substitution or transfer of a prize is permitted except by the Sponsor.
As a condition to being eligible to receive a prize, the winner must present to VHSC: (a) satisfactory proof that he/she is the person named on the winning ticket; (b) satisfactory proof that the purchaser of the ticket was an Eligible Ticket Purchaser at the time the ticket was purchased; and (c) such other matters as VHSC may reasonably request, such as proof of identification and proof of address to determine authenticity of individual claiming a prize. If the holder of a winning ticket does not provide the required information or does not otherwise comply with Applicable Law or these Rules, then VHSC may, at its option, disallow the award of the prize to such Ticket Holder and retain the prize.
Each Ticket Holder and each ticket buyer (a) agrees VHSC, its members and representatives are not responsible for any injuries, losses, or damages of any kind arising in connection with, or as a result of, this Raffle and/or that person's failure to win or redeem any prize, or that person's award of, acceptance of, or use of, any prize; and (b) releases and agrees to indemnify, defend, protect, and hold harmless VHSC and its directors and members from and against all losses, damages, rights, claims, and actions of any kind arising in connection with, or as a result of, this Raffle and/or that person's failure to win or redeem any prize, or that person's award of, acceptance of, or use of any prize, or that person's failure to comply with Applicable Law; and (c) represents and warrants to VHSC that they have read and understand these Rules and agree to be bound by these Rules and VHSC's decisions, which are final.
LIMITATION OF LIABILITY
VHSC and Sponsor assume no responsibility or liability for (a) any incorrect or inaccurate entry information, or for any faulty or failed electronic data transmissions; (b) any unauthorized access to, or theft, destruction or alteration of entries at any point in the operation of this Raffle; (c) any technical malfunction, failure, error, omission, interruption, deletion, defect, delay in operation or communications line failure, regardless of cause, with regard to any equipment, systems, networks, lines, satellites, servers, camera, computers or providers utilized in any aspect of the operation of the Sweepstakes; (d) inaccessibility or unavailability of any network or wireless service, the Internet or website or any combination thereof; (e) suspended or discontinued Internet, wireless or landline phone service; or (f) any injury or damage to participant's or to any other person's computer or mobile device which may be related to or resulting from any attempt to participate in the Raffle or download of any materials in the Raffle.
If, for any reason, the Raffle is not capable of running as planned for reasons which may include without limitation, tampering, unauthorized intervention, fraud, technical failures, or any other causes which may corrupt or affect the administration, security, fairness, integrity or proper conduct of this Raffle, VHSC and Sponsor reserve the right at its sole discretion to cancel, terminate, modify or suspend the Raffle in whole or in part. In such event, VHSC and Sponsor shall immediately suspend all drawings and prize awards, and VHSC and Sponsor reserve the right to award any remaining prizes (up to the total ARV as set forth in these Official Rules) in a manner deemed fair and equitable by VHSC and Sponsor. VHSC, Sponsor and Released Parties shall not have any further liability to any participant in connection with the Raffle.
Sponsor's Contact Information
Encore Tours
330 Congress St.
Suite 5
Boston, MA 02210
encoretours@acis.com
For information or inquiries about this Raffle, contact cmocha@hartdistrict.org.